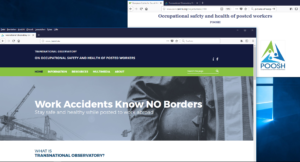 The OSH e-Observatory, developed under the 'Depicting the existing and future challenges in assuring decent working conditions and wellbeing of workers in hazardous sectors (POOSH)' project, VS/2016/0224, has been launched.
In a world of continuous globalization, with companies and organizations deploying more and more workers across borders, it is essential to provide information about the labor field, posted workers, rules and general updates concerning the safety and health of posted workers in the EU.
The purpose of the e-Observatory is to collect and enhance relevant information for stakeholders (posted workers, employers, competent public authorities, trade unions, employers' associations, NGOs), researchers and media about the overlooked issue of OSH in the context of posting abroad to provide services.
The OSH e-Observatory presents
information and evidence-based analysis of data on occupational safety and health of posted workers in the EU;
information on OSH related campaigns and events;
information from the European Commission, with links to relevant web pages;
information on competent national public authorities, European institutions and supporting organizations.
It is also a informational platform for all the project's deliverables (conference proceedings, brochures, pocket guide, reports and other results of the research developed within the project), posted in different languages, with a regular update, in order to become and remain a useful tool for posted workers, employers, researchers, policy makers and other users.