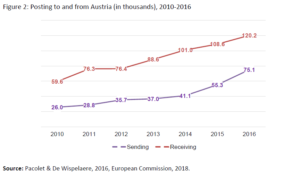 Posting is an important form of transnational temporary labour mobility for Austria. With a total of 108,627 of PDs A1 issued in 2015 for posted workers coming to Austria, the country ranked 4th in the EU after Germany, France and Belgium. The temporary migration and employment status affect the situation of EU and TCN workers posted to Austria in multiple way.
Firstly, employers pay less attention in terms of OSH training towards them;
secondly, their temporary status marks them as workers who are easier to exploit and pressure to accept unsatisfactory working/OSH conditions;
thirdly, it also influences posted workers' behavior in so far as due to their short-termed stay, they tend not to inform themselves sufficiently about their rights and the regulations in Austria.
The last point is caused by a lack of integration and a feeling of not belonging of posted workers themselves into the Austrian system, which again are caused by the temporariness of their stay.
National competent authorities and agencies in Austria have made great attempts early on after the transposition of the Posting of Workers Directive (96/71/EC) to protect posted workers from increased OSH-related risks. Yet, data from our research suggest that vulnerabilities still persist. Read more